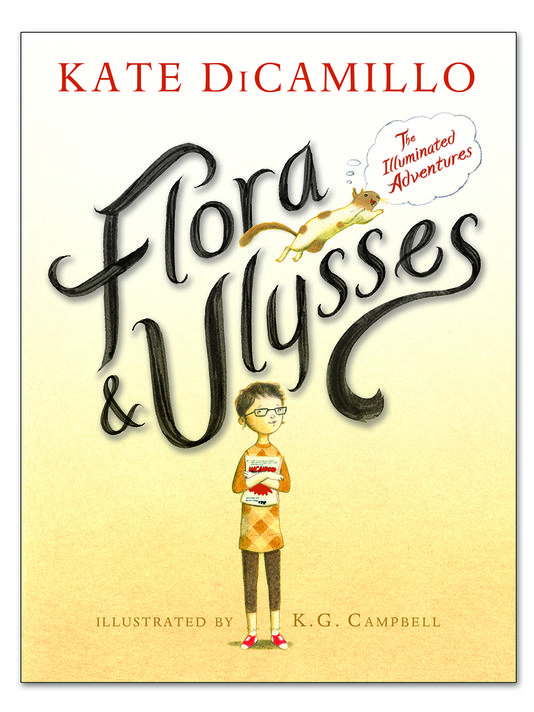 Written byKate DiCamillo, illustrated by K.G. Campbell c. 2013
Kate DiCamillo is the Newbery Award author of The Tale of Despereaux, and also Because of Winn-Dixie, which has won several awards as well. Here she offers the story of a squirrel and a vacuum cleaner. Subtitled "the illuminated adventures" this is part graphic novel and part regular narration, with chapters that vary in length from one page to several, sometimes only illustrations and sometimes not, with a total of 68 chapters and an epilogue in 231 pages!
It begins with Flora reading her favorite comic, The Illuminating Adventures of the Amazing Incandesto! when she hears a loud noise outside, and it is her neighbor Mrs. Tickham chasing after her runaway powerful vacuum cleaner named Ulysses, which is heading straight toward an unsuspecting squirrel. Sure enough, the squirrel is vacuumed up. But it survives, minus some of its fur coat, and Flora names it Ulysses and together they start out to right the wrongs of the world, at least in their neighborhood, just like the Amazing Incandesto does. These include trying to put right the divorce between Flora's parents, helping a young neighbor named William Spiver who is temporarily blind, and meeting an interesting lady named Dr. Meescham who is from Blundermeecen. Have I got you thoroughly confused yet? It's not an easy read, but it's a rewarding one!
P.S. This book has won the 2014 John Newbery Award, the top award for children's literature!